May 5-6, 2017 – Porto, Fundação Eng. António de Almeida
This is the 4th edition of the Congress on Literacy, Media and Citizenship organized by GILM – Grupo Informal sobre Literacia Mediática (Informal Group on Media Literacy) constituted by 8 Portuguese public entities interested in promoting Media Education and put this area on the public and political agenda.
The 2017 congress is dedicated to the theme "For a new awareness of the public space".
It brings together over two hundred participants, including academics, researchers, teachers, librarian teachers and media professionals.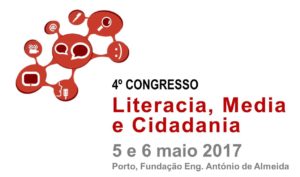 This event is organized by: Sara Pereira
More information: http://www.congressolmc.pt/